3 November, 2001
Nov 3rd- Christchurch!
I finally made it to Christchurch, New Zealand! It has been a long day and a half. So, where did Nov. 2nd go? While in flight traveling west, we crossed the International Dateline. As soon as we crossed this imaginary line, the time shifted ahead 24 hours. It was Thursday (or early Friday morning) in my mind, and then it changed to Saturday, Nov. 3rd! How bizarre! What do you think will happen on my home?
I arrived safe and sound today. I had four different flights to get to Christchurch. The longest flight was from Los Angeles, CA to Auckland, NZ - about 13 hours! I had a middle seat and found it very difficult to sit there for all of that time. Fortunately the people in my row were wonderful. We had a great time chatting. They were an interesting mix of people! I have never flown overseas before, and they made me feel so comfortable and happy. Thanks Mary, Karen and Derek!
Along the trip I met some people who will be in my research team as well as others who are going to Antarctica to do science. Unfortunately my main suitcase never made it here. I am leaving for Antarctica in two days and am missing most of my personal belongings! The suitcase is nowhere to be found at the moment. I am taking this all in stride however, as I know that this is just part of the adventure. My spirits are high. I guess I'll have to do some shopping today!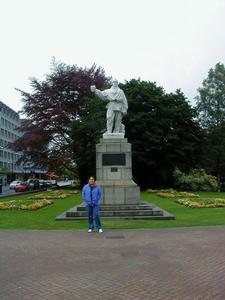 I am standing in front of a statue of Captain Robert Falcon Scott, famous polar explorer who died after reaching the South Pole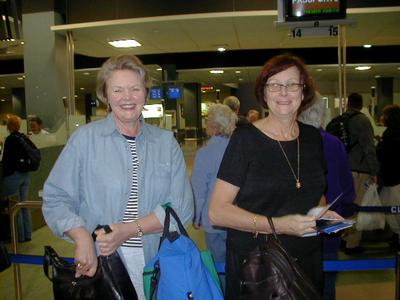 Meri and Karen, my new friends from the plane (I spelled Meri's name wrong in the journal)
---
Contact the TEA in the field at .
If you cannot connect through your browser, copy the TEA's e-mail address in the "To:" line of your favorite e-mail package.