4 November, 2001
Today we had a 1:00 appointment at the Clothing Distribution Center (CDC). I brought my digital camera but left the disk at the hotel by mistake. So, I don't have any pictures of the center or the Extreme Cold Weather (ECW) gear. We were trying on clothes for over two hours! Two of my team members, Maggie and Juliette, and I went into the women's changing room. In there waiting for each of us were two orange duffel bags filled with all of the ECW gear that we will be bringing to Antarctica. We had to try on every single piece of clothing to be sure it fit. It is really important that everything fit properly, because once down on the Ice, you only have what you brought with you!
Part of the reason it took us so long to try on all of the clothing was that there was so much of it and a lot had to be exchanged for different sizes. Tomorrow we will go back to the CDC when it's time to leave for Antarctica. The planes are located there. We are required to wear certain items of ECW gear on the plane ride for survival purposes (in case something happens to the plane and we are forced to land in the middle of nowhere!). Tomorrow I will step on the plane wearing expedition weight thermals, a fleece jacket, bib, expedition parka, bear paw mittens, thermal wool socks and bunny boots. In addition I am required to have extras of certain items in my carry on bag. Also we have to have our sunglasses with us. Why do you think that is? I'll tell you the answer tomorrow.
Our scheduled departure time for tomorrow is 6:15 am. We are staying at a wonderful bed and breakfast type place called The Windsor. The owners gave each of us a Ziploc bag of breakfast foods and an alarm clock for the morning, since we'll be up so early. They really take care of us here! Tonight ten of us went out to dinner. Eight of the ten were part of the TAMSEIS project (see the project description on my main page for more info). Our team is made up of some really wonderful people. I'll be talking a lot about them in the next six weeks. For starters, here are the places where some of our teammates are from: France, Cameroon (in Africa), China, Pennsylvania, Missouri, Alabama and Washington. There are other members that I haven't met yet. We are quite a diverse group!
Update on the missing luggage:
After our time at the CDC, I hadn't heard anything about where my luggage was. So, I had to go out and buy lots of things. Shortly after I was back from my shopping excursion, the owner of the hotel said the luggage had arrived!! I was so happy! It figures it arrived just after I had spent lots of money on new items, but alas, I have my stuff!! Yeah! Antarctica, here I come!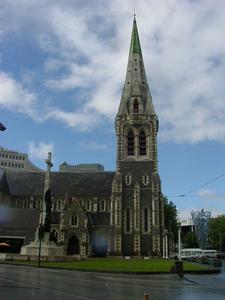 This is a beautiful cathedral located in the center of Christchurch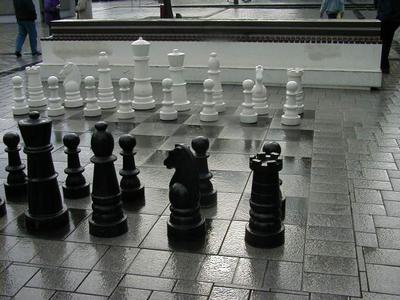 The giant pieces!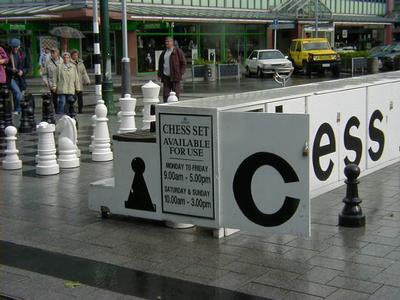 A life size chess set in Christchurch
---
Contact the TEA in the field at .
If you cannot connect through your browser, copy the TEA's e-mail address in the "To:" line of your favorite e-mail package.