5 November, 2001
Nov 5th- Antarctica!
I got up at 4:45am to get ready for my 6:15am departure time. After my shower, the owner of the hotel came around to inform us that our flight was delayed three hours. I was glad that I would have a few hours to work on my journals and eat a leisurely breakfast. While we were sitting in the dining room, in came the owner again. The flight had been delayed another hour. This is very common. Oftentimes flights will be cancelled all together. Another common thing is for planes to leave and then have to turn around in the middle of the flight. This is called a Boomerang. Sometimes it is due to bad weather or mechanical problems. We were not told the reason for today's delay.
At 9:45am all systems were go! We left for the Clothing Distribution Center (CDC) where the airport is. It took a few hours before we actually got to take off. The Air Force is in charge of flights to Antarctica for the United States Antarctic Program (USAP). Our aircraft was a C-141 "Starlifter ". This aircraft transports cargo and passengers all over the world. It also has the ability to airdrop vehicles, equipment and troops. At 1:00pm our C-141 lifted us into the sky headed for the Great White Continent!
The accommodations aboard this aircraft were nothing like a regular airplane. Since it is used for transporting cargo, there was a helicopter sitting right in the center of the body of the plane! We sat in seats that faced each other at the front and back of the plane. The noise was so loud. We had to wear earplugs the whole time. Trying to communicate with one another was difficult. We used our hands a lot to try to explain what we wanted to say.
As we got closer to Antarctica, I asked one of the members of the crew named Paul Labbe if I could visit the cockpit. He was so nice and got permission for me to do just that! As you'll see in the pictures below, I got to see the most amazing views of Antarctica! The guys in the cockpit were great!! Thanks guys! Thanks Paul!
Exactly five and a half hours after we took off, our C-141 landed safely. As we touched down I cried. It was such an emotional and moving moment. My dream was realized the minute we landed. I actually made it to Antarctica, the place that I have dreamed of. I knew that I needed to go to this wondrous place, and I made it happen for myself. A year and a half ago I submitted my long application to TEA never thinking I would actually be selected, but knowing that I needed to try. Now after hard work and great fortune, I am standing on the most incredible place on Earth. I am in Antarctica!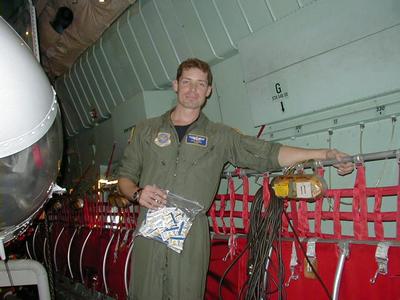 Paul, our loadmaster on the C-141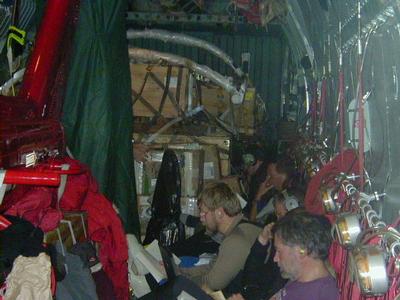 Inside the C-141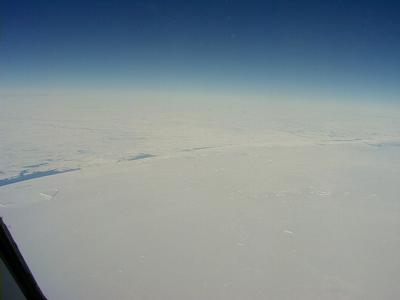 My first glimpse of Antarctica from the cockpit!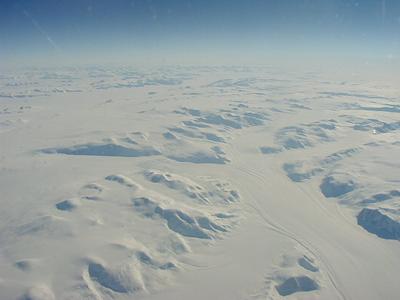 Antarctica!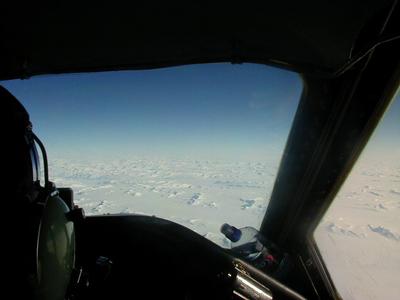 More of Antarctica!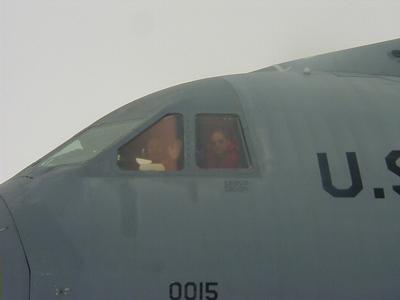 Our pilots wave to me!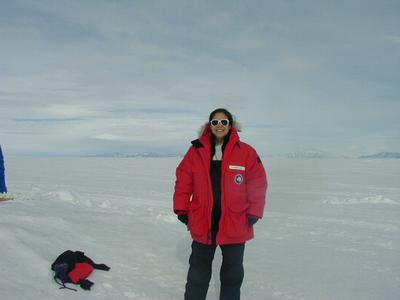 I'm in Antarctica!

Jen and Maggie ready for Antarctica.
---
Contact the TEA in the field at .
If you cannot connect through your browser, copy the TEA's e-mail address in the "To:" line of your favorite e-mail package.