16 July, 2002
We have a crew of six at this point in time. Last field season, I gave a brief biography of the members of the crew. I learned that there are many facets to anthropology and archaeology. Therefore I think it is important to tell a little about our crew members. I started on an earlier entry with a brief bio on Jim Gannaway. Today I would like to write about Teresa Brown. She is originally from Winston-Salem, North Carolina. She went to the University of Arkansas and received her BA degree in anthropology and chemistry (she taught chemistry for the past 11/2 years). She is currently in the process of working on her Masters at the University of Arkansas in anthropology. She is studying and writing her thesis on Mississippian pottery. She has been researching pottery from Northeast Arkansas. She has also worked as an archaeologist being contracted doing cultural research. She has worked on Paleo Indian sites in Virginia, Civil war sites, and Arkansas Cherokee Sites (Trail of Tears research). She has a great deal to offer as part of the team.
Another member of this years team is Tammie West. Tammie lives in New Salem, Massachusetts. She is a nurse practitioner and currently works at the Templeton Developmental Center in Massachusetts. She has received her masters degree in Education (University of MA at Lowell) and her Masters degree in nursing (University of MA, Amherst). She has always been interested in anthropology and archaeology.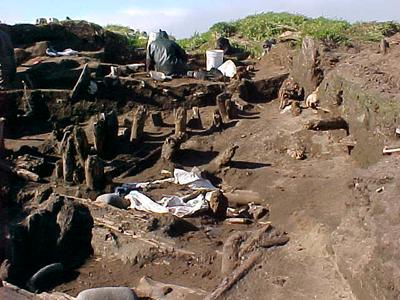 This is level three we are working on. It seems we are not going anywhere somedays, but then all of a sudden qwe are down another level.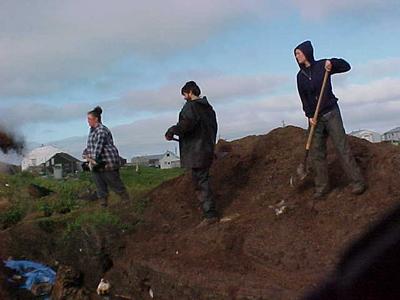 Teresa, Jim, and Margie are putting in the backfill. It might have been cold that day. But backfill is heavy. We did not need jackets this day.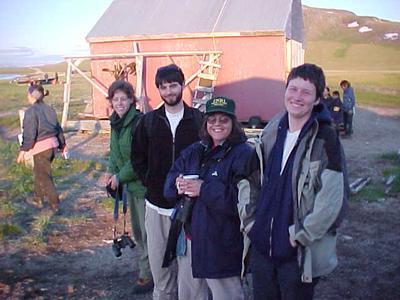 Another reindeer roundup shot! It took us awhile to get used to sunlight in the middle of the night. We were all excited at 2A.M. though. from right to left are Teresa, Tammie, Jim, and Amy in back.
---
Contact the TEA in the field at .
If you cannot connect through your browser, copy the TEA's e-mail address in the "To:" line of your favorite e-mail package.