18 July, 2002
It looks like another typical day in the Bering Strait, cold, rainy, and windy. But we must go on. We only have about 11/2 weeks of excavating left. We need to get down more levels at this point. We will work on Saturday for part of the day. Margie has found her second basket, at the trench. This one has a bottom to it. This find is very important. You can see the baleen in it. When she brings it back to the Dome, she must clean it up and then package it carefully. She will put the basket in a can cover it carefully with soil. Remember, we are digging into perma frost. Whatever we find can be damaged or splinter because it has been buried for such a long time in the frozen earth. Think of taking something out of a freezer. What happens? Well, it starts to soften and melt. Only we do not want any of our finds, especially a basket damaged. Some of the samples we find are coated with a mixture of glue and water. This creates a finish to preserve it. And once again, when all of the samples have been analyzed, they will be returned to Wales.
Two very nice things happened today. We were greeted a herd of reindeer on the mountain at the beginning of the day. And on the way home back to the Dome, we were greeted to 2 gray whales not far off of the beach. We have heard there will be another reindeer roundup late tonight. This usually takes place in the wee hours of the morning. We would like to see it, but we have to be up by 6:a.m. to start our day. Musk ox was also sighted a few miles away. Hopefully they will be coming to the mountain so we can say hello.
Two more people gave us salmon today. At night nets are put in the water and then taken in the next day. Some of the catches yield 15 salmon. Can't get much fresher.
Besides working on this journal, one of Dr. Harritt's requirements is to write a journal for him. This must include a detailed explanation of our day. It is important to describe where we worked and what is found. It is necessary to describe the kind of soil being excavated and what obstacles are encountered as well. The paperwork, cataloging and journal are vital to archaeology, almost as important as the excavation. He will be reading these journals and referring to them as he does his analysis of the excavation.
I guess this is all for now, it is late, tomorrow brings more finds at the Kurigitavik mound (tel.079)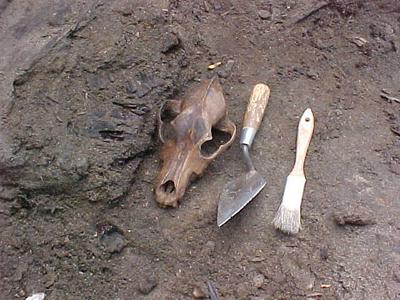 I am not sure if this was from a large dog or a wolf. Either way, it was = an exciting find!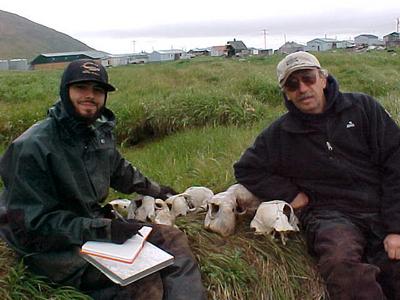 Jim Gannaway and I are making observations on the walrus skulls found = during the excavation.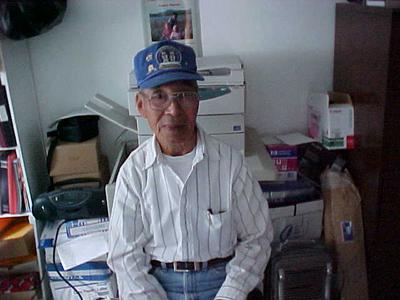 Pete will be interviewed this week by Jill. He gave us two salmon that he caught. He pulled in 15 one night from his nets.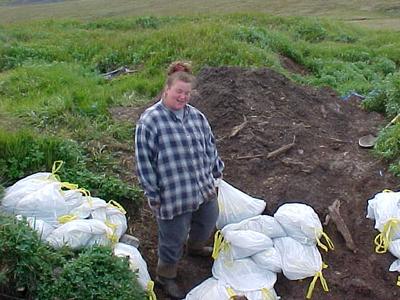 We wanted to go further in the trench but there was not enough time. So, we had to fill bags with soil and hopefully important samples. Margie is pictured here.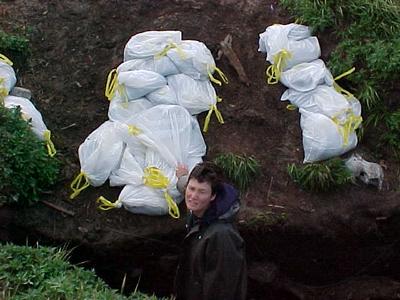 Teresa was also bagging it. This is a very important aspect to archaeology. It will be very interesting to see what is found next field season.
---
Contact the TEA in the field at .
If you cannot connect through your browser, copy the TEA's e-mail address in the "To:" line of your favorite e-mail package.