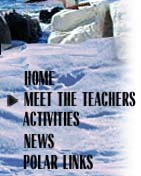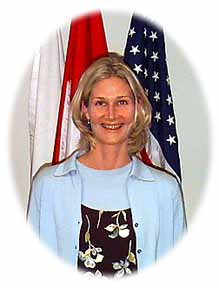 My name is Elissa Elliott. I teach biology at Mayo High School in Rochester, Minnesota, located in the southeast corner of the state. Biology is such a great subject to teach because you get to constantly explore new worlds and experience new environments. Antarctica is one of those environments I am looking forward to exploring and experiencing.

I grew up in Minneapolis but moved to Southern California when I graduated from high school. I started out as a math major but slowly moved over to biology and graduated from UCLA in 1990 with a biological sciences degree. It wasn't until February of my senior year that I decided to become a teacher. That following year, I finished both my M.Ed. and math and science teaching credentials at UCLA.

During the summer of 1991, I married Dan Elliott, who was 2 years into Loma Linda University School of Medicine at the time. While he finished medical school, I taught math at Valley View High School in Moreno Valley, California.

In 1993, he was accepted as a surgery resident at the Mayo Clinic, and we moved, with our two beagle puppies, to Rochester, Minnesota. I found a teaching job at Mayo High School and have been teaching here ever since. Dan's residency program finishes up the Spring of 1999, so we will be making some important decisions in the next year or two.

I have thoroughly enjoyed my teaching experience, mostly because I have been able to learn new things along with my students. I strongly believe in involving the students in as many projects as possible-- classroom projects and community projects-- because they are actively learning and are immediately applying what they have learned. We have been able to study the monarch butterfly by raising our own butterflies, producing a Wolf Carnival designed to teach younger kids about the timber wolf, testing our nearby stream macro invertebrate diversity and reporting our results to the state, building a life-size whale in the gym to study whale adaptation, acting as turtle-stranding scientists who have to report their findings to a central database, and more. Direct student involvement in real-life issues raises student awareness and makes the "bigger" picture clearer. That is why I am very excited that I have an opportunity to bring Antarctica to my students and other students who want to get involved in a real-time research expedition.

I also find that my students love to travel and explore as much as I do. I take two trips every year, one to a colder climate and one to a warmer climate. The trips tie in with what we are talking about at the time, extending the students' knowledge even further. In January, we go to the International Wolf Center to study wolf biology, ecology, and reintroduction. We do this through outdoor hikes, telemetry tracking, lectures/discussions, howling sessions, and various other activities. In May, we go to the Marine Lab in Key Largo, Florida, for a 3-night, 4-day marine ecology course. We snorkel in the seagrasses, mangroves, and coral reefs, identifying the animal and plant life of each community. We study how they all relate to each other and what we can do to help. It is amazing how much "stuff" you can retain when you can actually experience what you are learning.




Microbial Life in Taylor Lake, Dry Valleys, Antarctica
Dr. Christian H. Fritsen, Department of Biology, Montana State University, Bozeman, Montana

I will be working with Dr. Christian H. Fritsen's research team from the Department of Biology at Montana State University in Bozeman, Montana. We will be studying microbial ice life on the lakes of Taylor Valley. The following exerpt about the project is actually the proposal abstract.

Three to twenty meter thick permanent ice covers on lakes in the McMurdo Dry Valleys, Antarctic, contain viable microbial cells in association with sediment aggregates. These aggregates are now recognized as sites where physical, chemical, and biological interactions promote microbial growth under extreme conditions inherent to the ice environment. This interdisciplinary research program will define specific processes which allow:


1) the creation of liquid water (the essential element for life) in the permanent ice,

2) the survival and structuring of microbial populations subjected to freezing and thawing,

3) the production of substances which alter the physical attributes of the ice crystal habitat and

4) nutrient supply to the microbial populations which is essential for not only survival, but net microbial growth and biomass accumulation. The work will be on ice aggregates embedded within the permanent ice covers on the lakes in the Taylor Valley which have been tentatively characterized in previous studies. Research on microbes in permanent ice provides information on the ecology of microbes in ice ecosystems and promises to have biotechnological implications. Furthermore, these studies will provide insights into the conditions which support or have supported life beyond our own planet in association with water ice which is currently present within and beyond our own solar system.




Polar Classroom Activities:





Elissa will travel to the Dry Valleys and work at a remote field station. The valleys are within helicopter-distance from McMurdo Station.

The Dry Valleys are an unique environment in Antarctica - and home to unique ecosystems! There are several ice-covered lakes located here. Elissa's work will investigate the microbial communities that live in the ice cover.

November 1998
October 1998
| | | | | | | |
| --- | --- | --- | --- | --- | --- | --- |
| Su | Mo | Tu | We | Th | Fr | Sa |
| -- | -- | -- | -- | 1 | 2 | 3 |
| 4 | 5 | 6 | 7 | 8 | 9 | 10 |
| 11 | 12 | 13 | 14 | 15 | 16 | 17 |
| 18 | 19 | 20 | 21 | 22 | 23 | 24 |
| 25 | 26 | 27 | 28 | 29 | 30 | 31 |