26 October, 1998
Monday, October 26, 1998
Hi! I received a call at the hotel at 11:45 PM last night...it was Mike from the CDC informing me that the Starlifter was broken, and our flight was cancelled tomorrow. His last words were "sleep in!" News this morning concerning the plane was not good...it needs major repairs and is being sent back to the United States. A new Starlifter should be arriving sometime tomorrow. That means our flight is delayed until Wednesday, at the earliest. Knowing how things are going (or not going as the case may be) around here, it seems unlikely that we will even get out of here on Wednesday. Meanwhile, patience is the key word these days.
I dropped by the NSF office to check e-mail and do some journal entries. Also uploaded some of my digital photos...but I heard later that they didn't arrive at the Glacier site properly. I will have to try again or wait until McMurdo. The office closed early today because it is a holiday here...Labor Day. I walked over to the Antarctic Centre and spent some time jotting down facts from their displays to use in my journal entries. There's a lot of information I want to be sure to pass along to you.
Spent the rest of the afternoon reading a new novel...I sure don't get much time for that at home! Drove into town for a quiet dinner and decided to get to bed early and plan a big day of driving tomorrow. I'm heading for the west coast...of the southern island of New Zealand. The body of water on that side of New Zealand is the Tasman Sea. I know the weather over there is usually rainy this time of year, but I've heard the drive is incredible. I'll keep you posted. At any rate, it's a chance to get back into Arthur's Pass National Park. :) Talk to you tomorrow.
Betty :)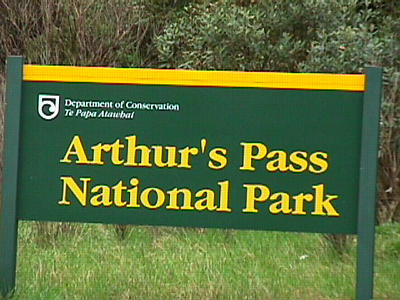 Tomorrow Sonia and I will be driving through Arthur's Pass National Park.
---
Contact the TEA in the field at .
If you cannot connect through your browser, copy the TEA's e-mail address in the "To:" line of your favorite e-mail package.