27 October, 1998
Tuesday, October 27, 1998
Hi! This was a LONG day of driving, but certainly worth it. Sonia and I met over at the National Science Foundation office and soon we were headed out of town toward Arthur's Pass. Sonia had not done this drive before and it was fun to share it with her. Armed with her Italian/English dictionary, we exchanged lots of questions and stories. We talked about customs, schools, families, holidays, vacations, Italy and the U.S., and much more! I absolutely enjoyed her company. There's so much we can all learn by spending time with people from other locations. I may even learn some Italian yet!
We had a couple of opportunities today for animal rescue...seems like the sheep and cows of New Zealand are sick of being kept inside the wire fences. On the way up to Arthur's Pass we found a small calf laying OUTSIDE the fence next to its mom who was INSIDE the fence. Sonia and I cornered the poor calf and herded it back inside the fence. I think actually that we scared it back inside the fence. Later we saw several sheep and lambs in the same jam...we hustled them back inside the fence as well. Do we have a future in ranching? I've always thought a farm would be a great place to live...especially the beautiful ranches out here.
After we passed by the Bealey Hotel (that we ate at Friday) it was all new territory for me. We quickly came upon the bridge that had partially collapsed last week...a concrete support was damaged due to flooding. Workers had immediately rigged up a very sturdy temporary bridge...linking it with the old bridge. I tell you, that would never happen that quickly in the States. Seems like road construction takes forever back home. This bridge is very important, though, since it provides one of only a few links from the east side of the Southern Alps (and east coast) to the west. I also want to note that most of the bridges we crossed today (and there were many of them!) were only one lane bridges. You have to "give way" (which means the same as yield) and proceed carefully across.
Soon we found ourselves at the actual "Arthur's Pass" where there was a small town and a visitor center for the national park. There were GREAT displays in this center...some were designed for children and focused on animals and plants of the region. Others talked about the geology of the region, the history of gold mining on the west coast, building a road through the mountains, and examples of early outdoor recreation in the area (complete with old skiis, crampons and axes used in ice climbing, and other equipment). I really enjoyed this rest stop.
As we went over Arthur's Pass and the divide, there was an immediate and dramatic change in vegetation. There was also a ton of rushing water EVERYWHERE! Waterfalls came right down to the road and in some cases, spilled onto the road. As we descended into the Otira Gorge, the rushing water of rivers below swelled to flood waters that spilled into nearby fields and onto the road. It was incredible! At one point, near the junction in Kumara (close to the west coast) the road was completely covered with water and we had to proceed slowly and carefully. The devastation caused by the floods was widespread. Sheep looked like dirty balls of wool standing knee-deep in watery fields. I felt sorry for these animals...and the people who own the property. This can't be fun for them. I wondered whether this happens every year in the spring, or if this is a parcticularly bad year for flooding.
It had been raining since we traveled through Arthur's Pass, but upon our arrival on the west coast, I would call it more of a downpour! Not the best day to get a view of the ocean, but we did manage to see it, (just barely through the clouds), at Greymouth. This town was much bigger than I would have thought, and I can't imagine why anyone would live in a place where is rains this much. This whole area originally developed into small towns due to gold mining activity in the region. Since it was already late in the day, we found a place to eat and then immediately started back for Christchurch.
The rains let up as we gained altitude and drove toward Arthur's Pass...the clouds lifted and for the first time today we were able to really see clearly. I want to tell you about Arthur's Pass National Park...the differences on the east and west sides are amazing! First, the park straddles the Southern Alps. The prevailing westerly winds which blow in from the Tasman Sea dump heavy amounts of rainfall as they hit the Main Divide. Over 5,000 mm falls at Otira on the western side of the park--compared to Bealey on the eastern side, which has an annual rainfall of about 1,500 mm. All of this contributes to vastly different types of vegetation on each side of the Divide.
In the west...there are tall trees called podocarps growing in the lowlands, with other trees/shrubs called Kamani, totara, and red-flowering rata on higher slopes. All of this forms an inpenetrable forest...like a rainforest. In the east...there are dry beech trees, and many sub-alpine and alpine plants in the summer, with other low grasses and shrubs further east. Both areas are green and lush compared to some areas back home in the United States.
We arrived back in Christchurch late...only to find out that the Starlifter had not landed yet. This was not good news for tomorrow's flight. They are going to send two Hercules planes loaded with cargo early tomorrow. Our flight is supposed to have mostly cargo and about 36 passengers on it. We'll see what happens tomorrow! Talk to you then!
Betty :)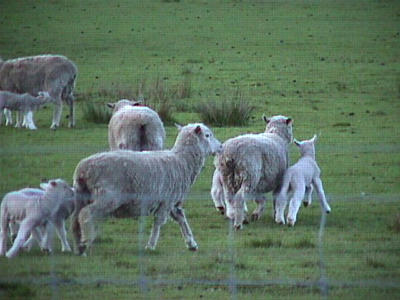 I couldn't leave New Zealand without showing you some sheep. I've seen tons of them in the past week.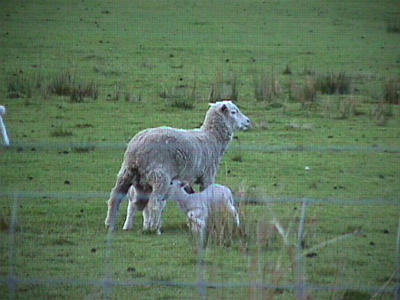 Springtime is a time for many new lambs to romp around in fields.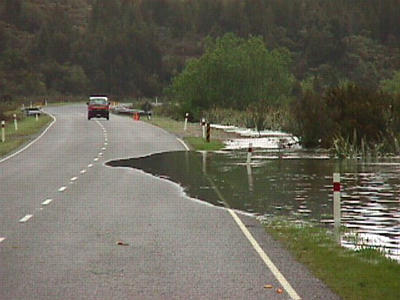 The heavy rainfall has made a mess of some of the road connecting Christchurch with the west coast.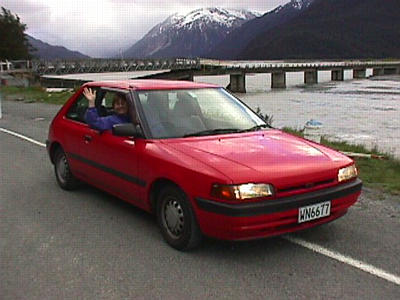 This little red car has taken me on all of my "field trips" since arriving in New Zealand. Notice that the bridge behind me has a section that collapsed from the heavy flow of the river. A temporary kind of connecting bridge was built very quickly, since this bridge is the only way to cross the river and get to the west coast (without going back to Christchurch and circling completely around).
---
Contact the TEA in the field at .
If you cannot connect through your browser, copy the TEA's e-mail address in the "To:" line of your favorite e-mail package.