Journals 2003/2004
Elaine Amaral
Portsmouth High School, Portsmouth, Rhode Island
"Long-term bottom trawl survey of Narragansett Bay"
R/V Cap'n Bert Narragansett Bay, Rhode Island
Various dates throughout summer
DAY 1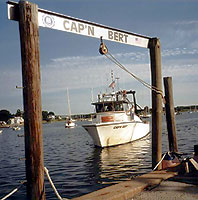 It's a beautiful summer day as I head for Wickford Shipyard. I find the shipyard ok but where the heck is the boat. OH NO! What if I have missed the boat on the first day? I don't see the boat; I see where the boat is supposed to be. Clearly posted is the sign "Cap'n. Bert", not so clear is any sign of the boat. Its now 7:50 am, does the boat leave at 8:00 am or was it 7:00 am? Where is my folder with all that info? Wait a minute. There is the Cap'n Bert headed for the dock and here is Tony, the research assistant who I will be working with. It's all good. I meet the Captain of the Cap'n Bert, Mr. Tom Puckett. A tall, slender man who keeps a watchful eye to the activities aboard ship, there will be no mishaps on his watch, is what his careful attention to details seem to say. Tony and I have met before, I hand him my gear and jump aboard.
Lines are tossed and we are off on a crystal blue summer morning. Tony explains to me what we are going to be doing and how it gets done. Every week, 52 weeks a year data is collected from two locations, Fox Island and Whale Rock. This is the longest continuing set of data gathered in Narragansett Bay. It began nearly 50 years ago. At these points a trawl is set out and dragged along the sea bottom for approximately 20 minutes. The net is then hauled up and dumped aboard ship where the number of each species is counted. Additional data is collected on flounder. The flounder is not only counted but also sexed and weighed. Once everything is counted we throw it back in the sea as quickly and carefully as possible. The idea is to gather data, and without sacrificing marine life. Sounds easy enough.
Tony and I discuss some of the environmental impacts and changes on Narragansett Bay. I am gaining a better understanding of some of the fish cycles, what is natural and how man has influenced many of the changes we have experienced. The boat's engine slows and Tony starts to move about the deck quickly. At first I do what he does. He puts on his boots, I put on my boots, he puts on his gloves, and I put on my gloves. I have picked up a pair of gloves belonging to Dr. Collie. One is marked L and the other R, I stare at them for a minute, slightly befuddled as I slip the one marked Lon my right hand and the one marked R on my left hand. I think to myself, that Dr. Collie is not too smart. Then I look up to see what Tony is doing next and he is watching me with a mischievous grin. Then I think to myself that Dr. Collie has a warped sense of humor and so does his young assistant. I grin back.
Chains and nets are flying about the deck. Tom is on deck with us now. Tony and Tom barely speak as they work with quick efficiency. Tony says something to me about putting a hook on the door. I don't see any door. The door is a large flat sheet of metal on either side of the fish net and needs to be hooked to the long line of chain that will be lowered into the water. That's right, I remember, Tony explained that to me earlier. He hooks his side and watches patiently as I hook my side. After more than several tries I get it. The wenches lower the equipment into the water and now we slowly drag the bottom. During this time Tony uses the Niskin bottle to gather seawater samples. I have never actually seen one outside a textbook. Tony explains the simple elegance of the design. I am learning a lot out here.
"Water is just not water. It is vital substance, the earth's blood, something of rich and infinite variety."
L. Watson, The Water Planet, 1988