Journals 2003/2004
Steven Krous
Cranston High School West, Cranston, Rhode Island
"Habitat Value of Aquaculture Shellfish Gear"
Narragansett Bay, Rhode Island
Various dates in July and August 2003
DAY 3: Wednesday August 20, 2003
We headed out at 9:00 AM today, another sunny, hot day on the water. We set the scup traps as close as we could to the oyster cage aquaculture operation at Rome point. Another two-hour set with pulling of lobster pots in the two hour interim while the traps were on the bottom. There were many berried female lobsters in the pots this morning-that's good to see, though few of the lobsters we caught were of legal size. The drastic decline in lobster catches over the last few years is very disturbing to me, especially since there seems to be no well-defined reason. The usual contributing factors are receiving a lot of finger-pointing: overfishing, the oil spill, shell disease, changing water temperatures in the Bay, wastewater treatment plant effluent.
We captured three tautog in the lobster pots today, and Stephanie was ready to fulfill a request from another grad student: if we caught any tautog we were to PLEASE take small fin clips and preserve them in vials filled with alcohol. They were needed for a Masters research project studying the genetics of tautog in Narragansett Bay. My biggest impression so far from my research experience has been the high level of cooperation that goes on between professors, grad students, DEM, etc. in the data collection effort. Everyone helps out. One boat trip ends up collecting data for three or more separate studies: in this case a genetics study, a habitat study and disease study. Our sampling work is providing opportunities for other researchers to add essential volume to their data sets, data on capture method, location and size that might correlate with the pathology, behavioral and genetics data to add meaning to their results. What a great way to "stretch" the funds available for research. This seems worth emphasizing to my mentee and students- Don't Function In Isolation...Communicate And Share!
Once again we caught no specimens of our three target species in the scup traps. Maybe they are only good for scup. We caught many scup again, with many young of the year individuals in this sample. We caught no YOY at the other sampling location, so it makes me wonder if YOY scup are making use of the oyster cage habitat.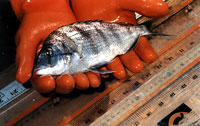 After sampling Stephanie and I talked more about the lack of success in capturing specimens of our three target species. We agree that trap positioning probably needs to be fine tuned to make sure that the traps are close enough to the preferred reef habitat of these fish species. This led us to more discussion of the possible solution: Scouting trap positions by SCUBA or free-divers with mask, snorkel and fins. I am not Research Certified in SCUBA but I am an experienced free-diver so I could definitely contribute here. We are talking about the possibility of doing a weekend dive the end of August or early September. The major difficulty seems to be finding a suitable dive boat. We're not supposed to dive from the Romarine, though the reason- a high bow-doesn't seem sufficient to me, especially if a spotter is on board along with the operator. There's a possibility of using a zodiac that I believe belongs to the zoology department at the main campus. Guess we'll see what comes together.