Journals 2003/2004
Sandy Pratt
Woodstock Academy, Woodstock, CT
"Role of Zooplankton grazers in harmful algal bloom dynamics"
R/V Endeavor, Bay of Fundy
June 30 - July 8, 2003
June 30, 2003
I am here! Aboard the Endeavor.
I have been extremely excited, yet apprehensive about this assignment because with my chemistry background, I felt unprepared to understand all of the oceanography and I had no idea what I would be called upon to do. Jill, my ARMADA coordinator, met me at the ship as I was starting to move aboard Monday evening for a 9 am Tuesday departure. I am sure she was a little concerned at my trepidation, but I was beginning to think that I would be the only one other than the Captain staying onboard Monday night. The thought of being alone in the bowels of this huge ship was very intimidating. The captain's quarters are two decks above. Lynne, the tech person on board, whom I had been assigned to room with asked me to vacuum our room as work had been done above its ceiling during the day. She was moving in tomorrow morning and had been out straight all day with tech problems. While accomplishing this housekeeping task, I met my next cabin neighbor, Ben who is a student at St. Joseph's College in Maine. Minutes later, I met his boss, Dr. Greg Teegarden who is the Head Scientist on this trip and he was most informative.
They are staying on board tonight and I feel very relieved. During the days preceding the trip, I had been reading the papers given to me on orientation day as well as completing Internet research on the topics. In one of the papers, the phrase "short-term depuration processes" directly preceded a citation to Dr. Teegarden. I had been unable to find a definition for the word depuration in any of my resources. Greg explained the concept to me and was very helpful in answering many of my questions. I feel quite at ease now.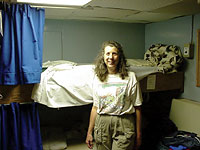 I know I will be able to help with the scientific process. We ship out in the morning.