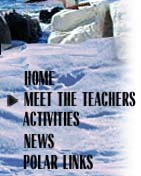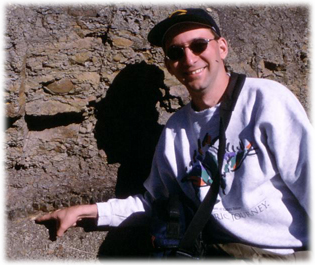 Andy will be working in remote field camps while he is in Antarctica. This means that communications may be intermittant and Andy may not be able to respond to emails right away.




My name is Andy Caldwell and I am a science teacher at Douglas County High School in Castle Rock, Colorado. Although I have only been teaching a few years, I have had a number of diverse teaching experiences that I hope have prepared me for the TEA program. I teach geology, astronomy, and introductory physical science at my high school, plus I teach a course on meteorites and have led field trips for the Denver Museum of Nature and Science.

As far back as I can remember, I have been interested in the Earth Sciences. Growing up in Colorado provided me with a natural laboratory where I could see all different types of geology by day, and explore the stars in Colorado's clear, dark skies at night. My interest in geology inspired me to take on a job in high school as a tour guide at a local commercial cave. From there, I went on to earn a BA in geology from the University of Colorado at Boulder and became the manager of a local "rock shop." As much as I enjoyed working at the store, I felt I needed to share my knowledge with a greater audience, so I began volunteering as a tour guide of a dinosaur exhibit at the Denver Museum of Nature and Science. This experience convinced me that I needed to become a teacher. The University of Northern Colorado (UNC) had a program that was designed to allow students like me to earn a masters degree and a teaching certificate at the same time. This program also allowed me to teach lab sections of geology and astronomy. I graduated in May 1999 after completing my thesis analyzing possible meteorite craters around Colorado.

I first learned of the TEA program when I was an instructor for the Frontiers of Science Program at the University of Northern Colorado. A representative from Antarctic Support Associates came to speak to the students about Antarctic research. When he concluded, he took the instructors aside and informed us about the TEA program. I knew then that this was exactly the opportunity I was looking for.

Part of my philosophy of teaching is to show students that science is an adventure. Aside from visiting another planet, I can't think of a much larger adventure than traveling to Antarctica. My students frequently comment that they like the personal stories I tell from my experiences and the slides that I show to illustrate different aspects of the Earth sciences. Part of the reason I became a teacher was for the opportunity to continue to do research, involve my students with research, and apply these experiences to my classroom. I believe that true professional and personal growth is most greatly stimulated through experience.

In my "free time," I continue to be involved with the museum. In addition to teaching classes and organizing field trips, I parcticipate in meteorite searches and I'm on a committee that hopes to set up a network of video cameras on schools around the state that will track incoming fireballs. My recreation time mostly consists of climbing 14'ers (14,000 ft. peaks), cross country skiing, and outdoor photography. My biography would not be complete without mentioning that I am an avid Star Trek fan. My students once held a bet as to whether I could make it through an entire astronomy class without mentioning Star Trek. I could not.





Antarctic Search for Meteorites
Dr. Ralph Harvey
Dr. Nancy Chabot
Case Western Reserve University, Cleveland, OH
The name really says it all. I will be joining the Antarctic Search for Meteorites (ANSMET) team in November 2002, in an effort to recover meteorites from the East Antarctic Ice Sheet. Most of the time will be spent searching for meteorites; however, I will also be parcticipating in a science project aimed at studying the weathering effects on Martian meteorites. We will be outfitting several rocks that have a similar composition to Martian meteorites with temperature and relative humidity sensors to see what kinds of extremes they experience. We will also be studying the effect of the high winds on an ablation target to study the intensity of mechanical weathering that meteorites endure in the polar environment.
The meteorite searches are conducted by snowmobile and on foot. Most meteorites are found in distinct areas of exposed glacial blue ice, however, occasionally meteorites are found randomly on the ice. We will travel on snowmobiles in a systematic order to cover the greatest area and recover meteorites. The meteorites are photographed in place, bagged, labeled, and shipped still frozen and untouched to the Johnson Space Center where they will be examined and classified.
Why Antarctica?
There is a reason that Antarctica is such a great place to look for meteorites. As meteorites fall from space, sprinkled across the East Antarctic ice sheet, they get incorporated into this growing pile of snow and ice. But this ice sags under its own weight, and over time slides out to the edges of the continent, where it calves off big icebergs, which carry their cargo of meteorites to an icy grave. However, in some areas the ice has to pass over or around major mountain ranges, and in these areas the ice has to slow down, turn corners, or push over buried peaks. This in turn exposes the ice to the fierce, dry katabatic winds of the polar plateau, and the ice surface can begin to recede as it sublimates away. However, the meteorites can't evaporate, so they start to pile up, and over periods of tens or hundreds of thousands of years, very significant concentrations can build up.
Where are we going?
Currently we plan to operate two independent ANSMET field teams this year; one dedicated to systematic meteorite recovery from well-known icefields, and the other dedicated to high-level reconnaissance of some very promising (but difficult to reach) sites.
THE SYSTEMATIC SEARCH TEAM A team of 8 dedicated to systematic searching will fly by LC-130 to paradoxically-named Beardmore South Camp at the north end of the Walcott Névé. This abandoned camp will be the starting point for an all-day snowmobile traverse southward across the Névé to Goodwin Nunataks (84 30' S, 161 28' E) and MacAlpine Hills (84 13' S, 160 30' E). Goodwin Nunataks was last systematically searched in the 1999-2000 season, recovering more than 400 specimens.
THE RECONNAISSANCE TEAM Using new support from NASA we are putting together a smaller 4 person team that will be heavily supported by small aircraft (Twin Otter) to allow for a high degree of mobility and flexibility. The focus of this team will be to explore new or poorly known icefields, conducting "survey-level" searching and identifying their potential for future systematic work by a larger team. The general region of activity will be out at the western end of the Transantarctic Mountains, with the team operating out of South Pole Station. For more information check out: http://www.cwru.edu/affil/ansmet/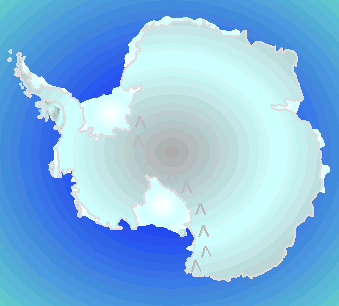 Polar Classroom Activities:

Using Triangulation to Locate Meteorites from Witnessed Falls



Andy will be working at remote locations while in Antarctica and may not be able to post a journal everyday. Please keep checking for updates from the field!
January 2003
| | | | | | | |
| --- | --- | --- | --- | --- | --- | --- |
| Su | Mo | Tu | We | Th | Fr | Sa |
| -- | -- | -- | 1 | 2 | 3 | 4 |
| 5 | 6 | 7 | 8 | 9 | 10 | 11 |
| 12 | 13 | 14 | 15 | 16 | 17 | 18 |
| 19 | 20 | 21 | 22 | 23 | 24 | 25 |
| 26 | 27 | 28 | 29 | 30 | 31 | -- |
December 2002
November 2002
| | | | | | | |
| --- | --- | --- | --- | --- | --- | --- |
| Su | Mo | Tu | We | Th | Fr | Sa |
| -- | -- | -- | -- | -- | 1 | 2 |
| 3 | 4 | 5 | 6 | 7 | 8 | 9 |
| 10 | 11 | 12 | 13 | 14 | 15 | 16 |
| 17 | 18 | 19 | 20 | 21 | 22 | 23 |
| 24 | 25 | 26 | 27 | 28 | 29 | 30 |
October 2002
| | | | | | | |
| --- | --- | --- | --- | --- | --- | --- |
| Su | Mo | Tu | We | Th | Fr | Sa |
| -- | -- | 1 | 2 | 3 | 4 | 5 |
| 6 | 7 | 8 | 9 | 10 | 11 | 12 |
| 13 | 14 | 15 | 16 | 17 | 18 | 19 |
| 20 | 21 | 22 | 23 | 24 | 25 | 26 |
| 27 | 28 | 29 | 30 | 31 | -- | -- |
July 2002
| | | | | | | |
| --- | --- | --- | --- | --- | --- | --- |
| Su | Mo | Tu | We | Th | Fr | Sa |
| -- | 1 | 2 | 3 | 4 | 5 | 6 |
| 7 | 8 | 9 | 10 | 11 | 12 | 13 |
| 14 | 15 | 16 | 17 | 18 | 19 | 20 |
| 21 | 22 | 23 | 24 | 25 | 26 | 27 |
| 28 | 29 | 30 | 31 | -- | -- | -- |
June 2002
| | | | | | | |
| --- | --- | --- | --- | --- | --- | --- |
| Su | Mo | Tu | We | Th | Fr | Sa |
| -- | -- | -- | -- | -- | -- | 1 |
| 2 | 3 | 4 | 5 | 6 | 7 | 8 |
| 9 | 10 | 11 | 12 | 13 | 14 | 15 |
| 16 | 17 | 18 | 19 | 20 | 21 | 22 |
| 23 | 24 | 25 | 26 | 27 | 28 | 29 |
| 30 | -- | -- | -- | -- | -- | -- |
March 2002
| | | | | | | |
| --- | --- | --- | --- | --- | --- | --- |
| Su | Mo | Tu | We | Th | Fr | Sa |
| -- | -- | -- | -- | -- | 1 | 2 |
| 3 | 4 | 5 | 6 | 7 | 8 | 9 |
| 10 | 11 | 12 | 13 | 14 | 15 | 16 |
| 17 | 18 | 19 | 20 | 21 | 22 | 23 |
| 24 | 25 | 26 | 27 | 28 | 29 | 30 |
| 31 | -- | -- | -- | -- | -- | -- |
January 2002
| | | | | | | |
| --- | --- | --- | --- | --- | --- | --- |
| Su | Mo | Tu | We | Th | Fr | Sa |
| -- | -- | 1 | 2 | 3 | 4 | 5 |
| 6 | 7 | 8 | 9 | 10 | 11 | 12 |
| 13 | 14 | 15 | 16 | 17 | 18 | 19 |
| 20 | 21 | 22 | 23 | 24 | 25 | 26 |
| 27 | 28 | 29 | 30 | 31 | -- | -- |
August 2001
| | | | | | | |
| --- | --- | --- | --- | --- | --- | --- |
| Su | Mo | Tu | We | Th | Fr | Sa |
| -- | -- | -- | 1 | 2 | 3 | 4 |
| 5 | 6 | 7 | 8 | 9 | 10 | 11 |
| 12 | 13 | 14 | 15 | 16 | 17 | 18 |
| 19 | 20 | 21 | 22 | 23 | 24 | 25 |
| 26 | 27 | 28 | 29 | 30 | 31 | -- |