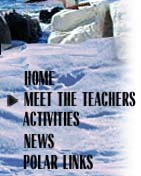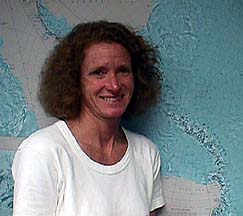 Received undergraduate degree in Wildlife and Fisheries Biology from the University of California at Davis, and a Teaching Credential from Montana State University at Bozeman. Worked with the California Department of Fish and Game and the California Department of Food and Agriculture before starting my teaching career in 1985. Spent 8 years at the high school level, 2 at the middle school level and two years teaching overseas in Florence, Italy.

Hobbies include distance running, hiking, gardening, tennis, skiing and travel.





Gas Collection and Analysis at the Summit of Mt Erebus,an Active Antarctic Volcano
Dr. Phillip R. Kyle, New Mexico Institute of Mining and Technology

Mt. Erebus Volcano Observatory (MEVO)

The project will be based at 11,000 ft. near the rim of an active volcano close to the Ross Ice Shelf in Antarctica. Mt. Erebus has a permanent lava lake in the crater and has small eruptions daily. The team will be gathering gas samples and taking seismic readings.



Location of McMurdo Station on Ross Island.



Mount Erebus is located on Ross Island.

December 1999
| | | | | | | |
| --- | --- | --- | --- | --- | --- | --- |
| Su | Mo | Tu | We | Th | Fr | Sa |
| -- | -- | -- | 1 | 2 | 3 | 4 |
| 5 | 6 | 7 | 8 | 9 | 10 | 11 |
| 12 | 13 | 14 | 15 | 16 | 17 | 18 |
| 19 | 20 | 21 | 22 | 23 | 24 | 25 |
| 26 | 27 | 28 | 29 | 30 | 31 | -- |
November 1999
May 1999
| | | | | | | |
| --- | --- | --- | --- | --- | --- | --- |
| Su | Mo | Tu | We | Th | Fr | Sa |
| -- | -- | -- | -- | -- | -- | 1 |
| 2 | 3 | 4 | 5 | 6 | 7 | 8 |
| 9 | 10 | 11 | 12 | 13 | 14 | 15 |
| 16 | 17 | 18 | 19 | 20 | 21 | 22 |
| 23 | 24 | 25 | 26 | 27 | 28 | 29 |
| 30 | 31 | -- | -- | -- | -- | -- |