Journals 2004/2005
Charlene Mauro
Navarre High School, Navarre Florida
"Tracking Juvenile Bull Sharks in
the Indian River Lagoon"
Indian River Lagoon, Florida
June 28 - July 9, 2004
Journal Index:
June 28 - 29 - 30

July 1 - 2 - 6 - 7 - 8 - 9
My name is Charlene Mauro and I teach Marine Science I and II at Navarre High School in the Florida Panhandle. I began the Marine Science Program at the school seven years ago and have seen it grow from one to fourteen sections. It is great teaching a subject that students are already interested in. I love my job and am very excited about having the opportunity to study sharks as an ARMADA teacher. As a participant in the ARMADA program, I spent part the 2004 summer vacation working with Tobey Curtis, a graduate student extraordinaire working towards a M.S in Fisheries Science at the University of Florida.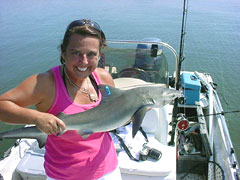 June 28, 2004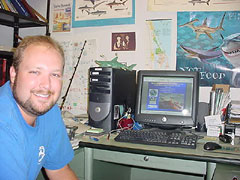 Today I met with Tobey Curtis and George Burgess at the Florida Program for Shark Research (FSPR) located at the Florida Museum of Natural History on the campus of the University of Florida. The FSPR includes the Commercial Shark Fishery Observer Program, the International Shark Attack File, many other research initiatives, and an incredible website focusing on shark research, conservation, and management. The specimen collection was amazing!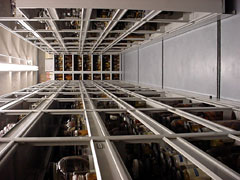 I have to admit I was really relieved when I met Tobey. I knew we were going to spend some long days together in the field and the fact that he was pretty cool made the close quarters situation o.k. He had a lot of experience with shark research including jobs at the Bodega Marine Lab in California tracking white sharks and the URI Narraganset Lab. Tobey typically spends three days a week in the lab and two days a week in the field. Impressive!
I spent most of the first day meeting other scientists and learning about the research I was about to get involved with.
So a little background about the research....the Indian River Lagoon system along Florida's Atlantic Coast is a nursery ground for bull sharks. Studies indicate that these sharks are born in the lagoon and live in the intercoastal waters until they approach maturity. Bull sharks are an important component of Florida's shark fisheries and there is a need to better understand their ecology within their nursery grounds. A sampling program has been implemented that utilizes longlines, gill nets, and rod reel to capture young bull sharks in Indian River and Mosquito Lagoon. All sharks captured are measured, sexed, weighed, tagged with NMFS rototags, and then released. Tagging and recaptures yield information on movements, population size, growth rates, and residency patterns. Young bull sharks are also fitted with acoustic transmitters and tracked for at least 24 hours. Some bull sharks have acoustic pingers implanted into their bodies and their movements are monitored by an array of fixed listening stations.
It was an interesting day and I am home with lots of readings to go over before we go out in the field.
Return to Journals Index