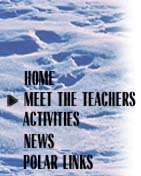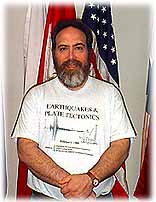 Science teacher and department chair at Chenango Forks Central Schools in upstate New York. Chenango Forks is a small rural/suburban district.

Currently teaching Earth Science, College-level Geology and Photography.

Married with three young daughters.

Graduated with a major in geology from Hamilton College (1976).

Masters Degree from Binghamton University (1984).

Additional graduate work at University of Vermont, Cornell University, and SUNY Brockport.



Deering Archaeological Excavation
Dr. Glenn Sheehan, Naval Arctic Research Laboratory Barrow, Alaska
I will be working on an archaeological excavation currently underway in the village of Deering, Alaska. Deering is on the southern end of Kotzebue Sound, near the arctic circle. The site was discovered as workers attempted to install a sewer system. Artifacts from the Ipiutak culture dating back to 1000-1500 years ago have been uncovered.


Deering, Alaska field site.
Visit the Student Pages at the ARCUS Homepage:
http://www.arcus.org/TEA_StudentWebSite/arexhomepage.htm
Polar Classroom Activity:
Arctic Excavation

April 1999
| | | | | | | |
| --- | --- | --- | --- | --- | --- | --- |
| Su | Mo | Tu | We | Th | Fr | Sa |
| -- | -- | -- | -- | 1 | 2 | 3 |
| 4 | 5 | 6 | 7 | 8 | 9 | 10 |
| 11 | 12 | 13 | 14 | 15 | 16 | 17 |
| 18 | 19 | 20 | 21 | 22 | 23 | 24 |
| 25 | 26 | 27 | 28 | 29 | 30 | -- |
July 1998