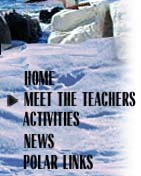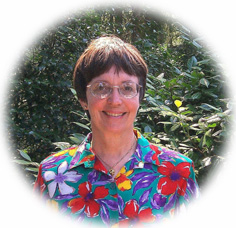 Greetings from 44o30'N, 123o17'W! (Corvallis, Oregon)

I teach adult basic skills development and high school completion classes for students aged 16 and older (no upper limit to learning!). There are classes like this in every US state and territory, serving more than four million people. Students in programs like mine are workers, consumers, community members, voters, parents, and grandparents. For one reason or another, their formal education was interrupted, and they've now come back to school to complete a high school equivalency program or to improve their skills in reading, writing, and math.

Through the years, I've found that science is an excellent and enjoyable context for teaching, learning and practicing these skills. And, polar science is parcticularly exotic and fascinating! In the past, students and I have written e-mail messages to scientists in Antarctica and to those on ships in the Southern Ocean. It is now so exciting to think that I'll have the opportunity to be in Antarctica myself! I'm interested in the specific scientific research as well as the geography of Antarctica, the people working there, the international Antarctica Treaty, environmental regulations, tourism, and the history of Antarctic explorations.

In addition to classroom teaching, I conduct teacher-training workshops around the country on the topics of math instructional reform and the use of technology in adult literacy programs. Thanks to a Literacy Leader Fellowship from the National Institute for Literacy (NIFL), I've developed materials using Internet-based resources as a teaching and learning tool http://www.nifl.gov/susanc/inthome.htm. I maintain a NIFL special collection of online resources in science/numeracy: http://literacynet.org/sciencelincs.

Here are some additional links for information and curricular materials:


National Institute for Literacy: http://www.nifl.gov/

Oregon Weather: http://literacynet.org/orweather

CNN San Francisco Learning Resources-Story of the Week: http://literacynet.org/cnnsf

Adult Numeracy Network: http://www.std.com/anpn





Extra! Extra! Read all about it!

Click here to see the arcticle on Susan Cowles' project in the Antarctic Sun!


http://www.polar.org/AntSun

Click here to see Susan Cowles' arcticle in the Gazette Times!
(Enter 'Susan Cowles' in the search option, chose "LBCC instructor" link.)


http://www.gtconnect.com/archives/index.inn?loc=detail&doc=/2002/January/25-202-FRILOC07.TXT






Long-Term Ecological Research Project at Palmer Station, Antarctic Peninsula
Dr. Hugh Ducklow and Dr. Rebecca Dickhut, College of William & Mary Virginia Institute of Marine Science, Gloucester Point, Virginia

On the Antarctic Peninsula, an area rich in plant and animal life, the sea ice advances and retreats during the year. The Palmer Long-Term Ecological Research (LTER) project investigates the effects of these sea-ice changes on the Antarctic marine ecosystem. This specific project asks the question: "What is the role of air-borne organic pollutants in Antarctic coastal seas?" Find out more about Persistent Organic Pollutants (POPs) at the "POP Goes Antarctica?" Web site!


Follow Susan's expedition through her TEA journals and through the Polar Science Home Page. This page is a project of the Science and Numeracy Special Collection, National Institute for Literacy (NIFL). The special collection provides online science and numeracy resources and curricular materials for teachers, tutors, learners, and others who are interested in adult literacy and numeracy programs.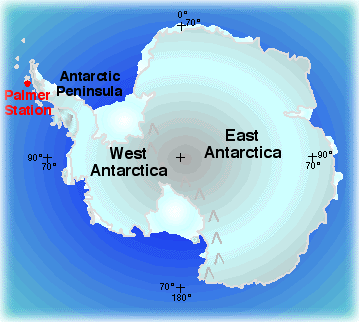 Be sure to check out the images in the journal entries!

6 March, 2002:

BACK HOME !!




28 February, 2002:

THE POLAR PLUNGE


27 February, 2002:

GOOD-BYE TO PALMER STATION!


26 February, 2002:

OATMEAL COOKIE MATH!


25 February, 2002:

TALKING TRASH


24 February, 2002:

PAINTER MATH


23 February, 2002:

CARPENTRY MATH


22 February, 2002:

ELECTRIC MATH !


21 February, 2002:

BRILLIANT BACTERIA !


20 February, 2002:

GIANT PETRELS AND FEW OTHER SEABIRDS


19 February, 2002:

A TALE OF THREE PENGUINS


18 February, 2002:

SEALS, SEALS, SEALS! SEALS!


17 February, 2002:

THE MIGHTY KRILL!!!


16 February, 2002:

PHYTOPLANKTON !


15 February, 2002:

THE PALMER LTER


14 February, 2002:

THE FRESHIES ARRIVE!


13 February, 2002:

WHAT CARGO IS COMING, AND WHERE WILL WE PUT IT?


12 February, 2002:

RESCUE ON THE GLACIER!


10 February, 2002:

WORKING IN ANTARCTICA


9 February, 2002:

POPs : Persistent Organic Pollutants


8 February, 2002:

OUR HEAT AND OUR WATER PUMP


7 February, 2002:

OUR ELECTRICITY


6 February, 2002:

OUR FRESH WATER


5 February, 2002:

THE FIRE DRILL !!!


4 February, 2002:

FILTERING THE AIR FOR POPS


3 February, 2002:

SHOVELING SNOW FOR POPS


2 February, 2002:

SCENERY WHILE SAMPLING !!


1 February, 2002:

PUMPING FOR POPS




31 January, 2002:

ORION IN THE DARKROOM


30 January, 2002:

ORION CARLISLE, SCIENCE TECHNICIAN


29 January, 2002:

UN-FISHING AND STAR-SPRINKLING


28 January, 2002:

WHAT TIME IS THAT PHONE CALL?


27 January, 2002:

HAT MATH


26 January, 2002:

WENDY ON WATCH!


25 January, 2002:

SKIING ON THE GLACIER!


24 January, 2002:

THE ARGENTINE NAVY VISITS !


23 January, 2002:

BOATING II


22 January, 2002:

IT LOOKS DELICIOUS, BUT WILL A STARFISH EAT IT ?


21 January, 2002:

WHY MAGGIE DIVES


19 January, 2002:

WORKPLACE MATH !


18 January, 2002:

MAGGIE GETS DRESSED!


17 January, 2002:

WE VISIT THE HMS ENDURANCE!


16 January, 2002:

THE BRITISH NAVY ARRIVES!


15 January, 2002:

BOATING I


14 January, 2002:

BROWNIES FOR 150 PEOPLE


13 January, 2002:

THE BRITISH ARMY ARRIVES!


12 January, 2002:

HOUSE MOUSE


11 January, 2002:

FUEL AT THE SOUTH POLE


9 January, 2002:

GOODBYE TO THE L M GOULD


8 January, 2002:

AMAZING ANIMALS


7 January, 2002:

FIRST DAY ON LAND!


6 January, 2002:

LAST DAY ON BOARD


5 January, 2002:

NAVIGATING FROM THE BRIDGE


4 January, 2002:

VIEW FROM THE BRIDGE


3 January, 2002:

FIRST DAY AT SEA


2 January, 2002:

Leaving Punta Arenas The


1 January, 2002:

Happy New Year!




8 December, 2001:

More images from sea


7 December, 2001:

The POPs team at sea


6 December, 2001:

Some summer photos!




7 August, 2000:

Getting Started