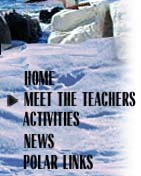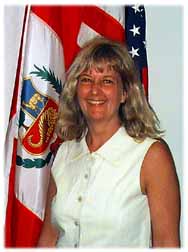 Hello! I'm Hillary Tulley and I live in Evanston and teach at Niles North High School in Skokie, Illinois. This will be my fifth year teaching high school. I will be teaching ILS, an integrated program for underclassmen that contains substantial laboratory and field work.

I have an eclectic background and have had many interesting jobs: cooking on sailboats, running restaurants, being a Montessori directress. I finally graduated from the University of Texas at Austin with enough hours for two degrees, and was lucky enough to study vertebrate paleontology there as well. I am interested in a myriad of subjects and to this end am near completion of a Masters in Liberal Arts from the University of Chicago. Last summer, I was able to parcticipate in SEA Experience in Woods Hole and on the Corwith Cramer.

I enjoy hanging out with Mike Sullivan, a mathematician who works in non-linear dynamical systems. We have turtles, cacti, lizards and two households!

I adore being outside and love swimming, walking, hiking, sailing, camping and Barton Springs. I especially enjoy the ocean and deserts. I think that is because the vistas are similar, one can see far in such an elegant landscape and often one must look carefully for what is important in these intense, yet subtle places. This December and January I will be going to an extreme desert - the Dry Valleys- to join Dr. George Denton's team from the University of Maine as they study the evolution of the East Antarctic Ice Sheet.

We will be based in Beacon Valley. It will be a true Antarctic field experience including primitive conditions, living in Scott tents and beautiful surroundings. Beacon Valley is in the Quartermain Range and it overlooks Taylor Glacier. It is a fantastic area in sandstone and dolerite bedrock at about 1200 m elevation. I will keep you posted on our adventures and the science.



This study seeks to determine the sequence and chronology of events that led to the development of the antarctic ice sheet. A continental-scale ice sheet probably first developed in East Antarctica close tohe Eocene-Oligocene boundary under temperate climatic conditions. The purpose of this project is to determine , from landscape analysis (with a numerical chronology), when (and why) these early temperate conditions gave way to a polar environment in Antarctica. From previous fieldwork and recent photographic analysis, an extensive relict landscape (older than 17 million years) with landforms and erosional features characteristic of temperate glaciation has been delineated. This relict landscape has been called the "Sessrumnir erosion surface," and covers almost 10,000 square kilometers in three fault blocks of the Transantarctic Mountains (Convoy, Dry Valleys, and Royal Society). It is on this relict land surface that data will be collected which record Middle and Early Miocene glacial history and paleoclimate. The results should allow an identification of the transition from temperate to polar conditions. this work will involve landscape analysis, stratigraphy of glacial depsoits and argon-40/argon-39 dating of volcanic ashfalls. Denudation rates will come from fission-track analyses and from exposure-age analyses of bedrock surfaces and erratic boulders. The overall results will elucidate the origin and stability of the polar antarctic cryosphere.

The main focus of the field research this year will be to work on the origin of buried ice in Beacon Valley. Work suggests that it is 12 million years old. Project description - Dr. George Denton and Dr. Brenda Hall



Polar Classroom Activity:

The Dating Game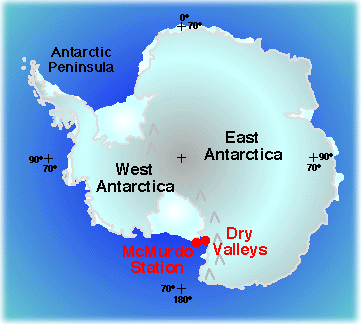 Hillary will travel to the Dry Valleys. The valleys are within helicopter-distance from McMurdo Station.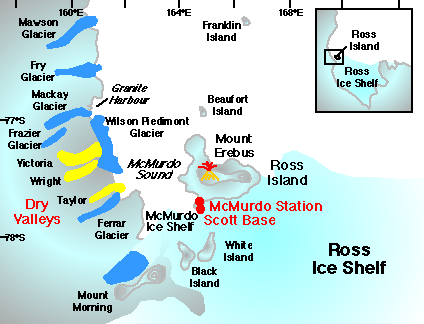 The Dry Valleys are an unique environment in Antarctica. Unlike other Antarctic valleys, their lower reaches are not filled by ice, and may not have been for millions of years. The valleys may preserve clues to Antarctica's climate and glacial history.

December 2000
| | | | | | | |
| --- | --- | --- | --- | --- | --- | --- |
| Su | Mo | Tu | We | Th | Fr | Sa |
| -- | -- | -- | -- | -- | 1 | 2 |
| 3 | 4 | 5 | 6 | 7 | 8 | 9 |
| 10 | 11 | 12 | 13 | 14 | 15 | 16 |
| 17 | 18 | 19 | 20 | 21 | 22 | 23 |
| 24 | 25 | 26 | 27 | 28 | 29 | 30 |
| 31 | -- | -- | -- | -- | -- | -- |
December 1999
| | | | | | | |
| --- | --- | --- | --- | --- | --- | --- |
| Su | Mo | Tu | We | Th | Fr | Sa |
| -- | -- | -- | 1 | 2 | 3 | 4 |
| 5 | 6 | 7 | 8 | 9 | 10 | 11 |
| 12 | 13 | 14 | 15 | 16 | 17 | 18 |
| 19 | 20 | 21 | 22 | 23 | 24 | 25 |
| 26 | 27 | 28 | 29 | 30 | 31 | -- |
February 1999
| | | | | | | |
| --- | --- | --- | --- | --- | --- | --- |
| Su | Mo | Tu | We | Th | Fr | Sa |
| -- | 1 | 2 | 3 | 4 | 5 | 6 |
| 7 | 8 | 9 | 10 | 11 | 12 | 13 |
| 14 | 15 | 16 | 17 | 18 | 19 | 20 |
| 21 | 22 | 23 | 24 | 25 | 26 | 27 |
| 28 | -- | -- | -- | -- | -- | -- |
January 1999
| | | | | | | |
| --- | --- | --- | --- | --- | --- | --- |
| Su | Mo | Tu | We | Th | Fr | Sa |
| -- | -- | -- | -- | -- | 1 | 2 |
| 3 | 4 | 5 | 6 | 7 | 8 | 9 |
| 10 | 11 | 12 | 13 | 14 | 15 | 16 |
| 17 | 18 | 19 | 20 | 21 | 22 | 23 |
| 24 | 25 | 26 | 27 | 28 | 29 | 30 |
| 31 | -- | -- | -- | -- | -- | -- |
December 1998
October 1998
| | | | | | | |
| --- | --- | --- | --- | --- | --- | --- |
| Su | Mo | Tu | We | Th | Fr | Sa |
| -- | -- | -- | -- | 1 | 2 | 3 |
| 4 | 5 | 6 | 7 | 8 | 9 | 10 |
| 11 | 12 | 13 | 14 | 15 | 16 | 17 |
| 18 | 19 | 20 | 21 | 22 | 23 | 24 |
| 25 | 26 | 27 | 28 | 29 | 30 | 31 |
June 1998
| | | | | | | |
| --- | --- | --- | --- | --- | --- | --- |
| Su | Mo | Tu | We | Th | Fr | Sa |
| -- | 1 | 2 | 3 | 4 | 5 | 6 |
| 7 | 8 | 9 | 10 | 11 | 12 | 13 |
| 14 | 15 | 16 | 17 | 18 | 19 | 20 |
| 21 | 22 | 23 | 24 | 25 | 26 | 27 |
| 28 | 29 | 30 | -- | -- | -- | -- |