Journals 2004/2005
Leesa Wingo
South Anchorage High School, Anchorage Alaska
"Physical-biological coupling at frontal
zones in Glacier Bay National Park"
Vessel Sigma T
July 12-30, 2004
Journal Index:
July 12 - 13 - 14 - 15 - 16 - 17 - 18

19 - 20 - 21 - 22 - 23 - 24/25

26 - 27 - 28 - 29 - 30
The project I am about to embark upon had two parts: Oceanography and Frontal line investigation. The Oceanographic Environment of Glacier Bay (http://www.absc.usgs.gov/glba/oceanography/WebFiles/OceanEnv.html) is the abiotic section of the ecosystem. The marine life of the bay is dependant on this part of the ecosystem, so understanding it is an essential to management of the preserve, wildlife, and resources. The oceanographic study is performed up to seven times per year and has been collected year-round since 1992. Results have shown that the limiting factor for primary production is light penetration, and that deepwater renewal of nutrients happens year-round, which caused a change in thinking from the old way marine scientists thought the system worked.
We were to continue the oceanographic sampling of temperature, salinity, density, light penetration, and particle size at set stations up both arms of Glacier Bay to the entrance of the Lower Bay.
The second part of the investigation was more cutting edge science. Lisa Etherington is investigating how salinity, temperature, density, and zooplankton population varies above, below and at the frontal line where the tidewater hits the lower salinity "glacially influenced" water in the upper bay. To do this, water needs to be mapped and characterized. Current speeds and directions, and animal counts need to be measured. Since this is the first time this is ever done, a tremendous amount of hypothesizing will be done. Scientific method first hand, in person is about to happen. I am excited!
July 12, 2004
Off to an adventure
2:00 P.M. and I leave in the afternoon to head from my home In Anchorage, Alaska to Juneau then Gustavus. In Juneau, I had 45 minutes to taxi over to the store to pick up some last minute vegetables and laundry soap before the 13-minute flight to Gustavus dropped me into my final destination of Glacier Bay.
While waiting for luggage, the airport black lab was working the crowd by presenting a 4" slobbery stick to every person to toss or kick, and only those who did so with gusto got a second chance. Luggage slid down the outdoor silver slide 30 minutes after the flight arrived.
Lisa Etherington, PhD, and her assistant, Erica Madison, met me at the airport, explained the schedule for the next day. (To read about Lisa Etherington and her projects, visit http://www.absc.usgs.gov/staff/MFEB/letherington.php.) Erica then took me back to the Glacier Bay National Park Headquarters in the camouflaged Bronco.
My new home was a spot in a 4-bedroom apartment in Seasonal Employee Housing shared with 5-17 other biologists, depending on who is in from the field on a particular night. Different combinations of crews always made for interesting combinations of scientific conversations and equipment preparation.
For example Gavin and Katherine are involved in catching and tagging Black Oyster Catchers. They put an international tag on the left leg and a green tag on the right leg means 'Glacier Bay'. Their project is to see if the Oystercatchers intermingle, migrate, stay in the same area. They surveyed the nests last year. This year, the project has expanded to taking DNA blood samples, banding and counting eggs and hatchlings. Other areas in Alaska are also banding, such as Prince William Sound, Resurrection Bay and Canada.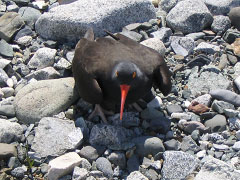 Return to Journals Index