Journals 2007/2008
Heather Judkins
Seminole High School, Seminole, FL
November 29, 2007
Land Ho!
Due to excellent weather and calm seas, the McArthur II eased into the berthing space on Wednesday afternoon. The original arrival time was early Thursday morning. I realized that we were near when I saw not only land but smog and planes flying overhead. Everything seemed so crowded and fast moving as we came in. The crew tied up quickly and the gangplank went down. After immigration and customs came aboard and everyone cleared we were officially allowed on land! So, what does this mean? Time to unload four months of equipment, samples, and data! The process began bright and early Thursday morning with the acoustical equipment going off the ship first, followed by 6 fish boxes, the big eye stands, and nets.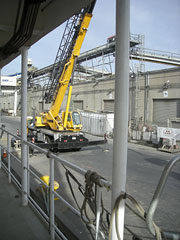 Everything was moved from the ship using two winches that were onboard as well as an industrial crane to remove things from the flying bridge. There was a large flatbed truck and 4 trucks to move the gear from the shipyard to the Southwest Fisheries Science Center. Everyone had a group to work with and the entire process went fast and efficiently! The majority of work was completed in 6 hours! I was impressed with how quickly things moved along. I believe this is because many of the scientists have done prior cruises and the senior people knew just what to do and when. My hats off to them all!
After the moving was done, the cleaning began. We cleaned out the wet and dry lab as well as our rooms. The wrap-up celebration was set up right in front of the ship on the pier. It was even complete with satellite TV for the Thursday night football game! It was a perfect way for the crew and scientists to relax after such a successful trip. It was also a chance for me to meet the people who were a part of prior legs and say goodbye to my new friends at sea!
The McArthur II and the crew are off for Portland, Oregon for their yearly maintenance. They are leaving tomorrow afternoon at 1300. There is a large storm system moving onto the Pacific Northwest coast which means 35-40 ft seas for their last journey of the year. They will berth for a day or two in San Francisco and should arrive in Oregon before next Friday. I am wishing for calm seas and safe travel for them all!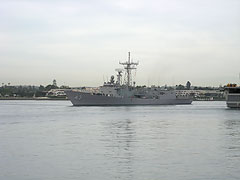 Marine Science Questions:
1. Which military branch of the United States has large base in San Diego? (Hint: picture should help)
2. What major oceanographic research facility (besides SWFSC) is based out of San Diego? What year was it established?