Journals 2007/2008
Heather Judkins
Seminole High School, Seminole, FL
November 4, 2007
Underway!
The R/V McArthur II got officially underway at 10:30am for our first study destination. We left Manzanilla under hazy skies and warm temperatures. As we were leaving the port, I recognized some of the birds found in Florida, the Frigate bird and Brown pelican. I was also introduced to 4 new bird species that aren't located in Florida, the Brown Booby, Blue-footed booby, a Black storm petrel, and a Leach's petrel. I am learning already!
After a quick lunch, we had a welcome-aboard meeting where we learned the ship protocols while at-sea and then a science meeting led by our fearless chief scientist, Dr. Eric Archer. We also had a fire drill and an abandon ship drill where we had to try on our life vests and survival suits.
I got my first project assignment which will be working with the CTD casts, XBT, and chlorophyll drops. I will be working with 3 others, Candy, Ryan, and Siri. Candy and Ryan have been working through the entire cruise while Siri and I have joined for this leg. More details to follow as I learn the ropes over the next few days.
Marine Science Questions:
1. The following picture was taken as I was leaving the Manzanilla port today. What is this structure? What is its purpose?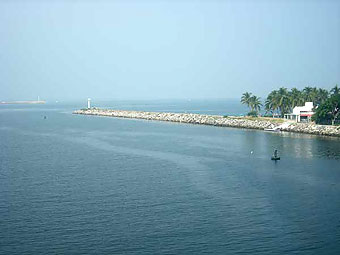 2. The sea surface temperature today as we headed out was 28 degrees C. Convert that into Fahrenheit. Show the formula and your work.