Who is Elizabeth Gibbs?

My name is Elizabeth Gibbs and I teach life science to seventh grade students at Thompson Middle School in Newport, Rhode Island, where I am in my seventh year of classroom teaching. Growing up on the Rhode Island coast, I have always loved being in, on, or around the ocean and enjoy scuba diving, kayaking, windsurfing, and just splashing around in the water and poking around in tidepools. With a background in environmental education, I have taught outdoors for Boston University Sargent Camp in Peterborough, New Hampshire, Save The Bay in Providence, Rhode Island, and the Office of Marine Programs at the University of Rhode Island Graduate School of Oceanography. I emphasize learning in the field as much as possible. I have taken my students on field study trips to Rose Island, Fort Getty, and the Newport waterfront. In 2002, I parcticipated in an Earthwatch program, Caring for Chimpanzees, in which I taught live from the field while volunteering at the Chimpanzee and Human Communication Institute in Ellensburg, Washington. I was thrilled at the opportunity to parcticipate in the ARMADA project to involve my students in real-world research, allow them to conduct field study of their own, and learn firsthand about the fascinating dusky dolphins of New Zealand.

What is Elizabeth Doing in the Antarctic?



I will be working at McMurdo Station with researcher Stacy Kim from Moss Landing Marine Laboratories in California. She is a benthic ecologist - meaning she studies communities of living things on the sea floor and learns how they interact with their environment and with each other. In this case, she and her research team will be working on the ASPIRE project - Antarctic Sewage Pollution Impact and Recovery Experiments. Over 1100 people live at McMurdo Station in the summer. Until last year, the sewage from the toilets at the station went out a pipe and was dumped, untreated, into the ocean. In January 2003, however, a new sewage treatment plant was completed, so the waste is now cleaned before it goes out the pipe. The major goal of the ASPIRE research is to study how sea floor communities near the outfall (where the treated sewage enters the ocean) will recover now that the sewage is being treated.

This research involves diving under the ice, in near-freezing water (28 F). Dr. Kim and the other divers on the research team wear drysuits with many layers of warm clothes underneath. While I enjoy diving in the comparatively balmy waters of Rhode Island's Narragansett Bay, I will not be putting on my scuba gear for this trip! However, I'll be helping the researchers in any way that I can and learning a lot in the process.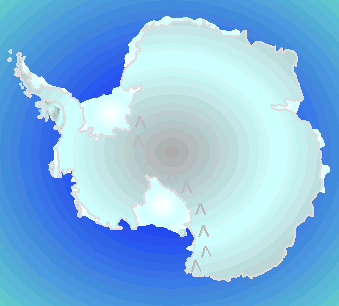 Elizabeth Gibbs' Journals Be sure to check out the images in the journal entries!

1 November, 2004:

Back home




30 October, 2004:

Drilling dive holes


29 October, 2004:

Flight delay.


28 October, 2004:

Saying goodbye


27 October, 2004:

Cape Chocolate at Last!


26 October, 2004:

Waiting to go to Cape Chocolate.


25 October, 2004:

Cape Chocolate and Skidoo!


24 October, 2004:

An eventful weekend.


23 October, 2004:

My first glimpse of the research site.


21 October, 2004:

Rounding 'em up at the Penguin Ranch.


20 October, 2004:

Another cool day at the dive site.


19 October, 2004:

Diving at last!


18 October, 2004:

It is a really bad idea to fall into a crack in the sea ice.


17 October, 2004:

A trip to Cape Royds


16 October, 2004:

Happy Camper School!


15 October, 2004:

Our first full day here!


14 October, 2004:

Everything you always wanted to know about Antarctica and weren't afraid to ask!


13 October, 2004:

Yahoo! I'm in Antarctica!


12 October, 2004:

How long DOES it take to get to Antarctica?


9 October, 2004:

Tomorrow I leave for Antarctica!