Journals 2008/2009
Nancy Sills
Creekside School, Cataula, GA
"Assessment of Freshwater Resources Offshore New England and Marine Mammal Observing"
R/V ENDEAVOR
August 12 - 25, 2009
Journal Index:
August 12 - 13 - 14 - 15 - 16 - 17 - 18
19 - 20 - 21 - 22 - 23 - 24 - 25



August 20, 2009
"Somewhere Over The Rainbow"
The sea is calm again; maybe the calm before the storm. There is more talk about the hurricane. It is headed our way. We might take shelter in Nantucket Sound or somewhere in that vicinity. We are planning to pick up two more scientists on Sunday so they can do some data collection in the Nantucket Sound. It will depend on how rough the seas are. They will use an instrument that will be towed along the sea floor and get a more detailed image of the first 30 meters of the subsurface.
This morning there was a strange rainbow in front of the ship. There was fog all around but in this fog you could see a rainbow shaped arc but without the colors. It stayed a long time and there was quite a lively discussion about it. We hoped the fog would burn off by lunch.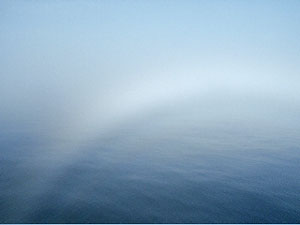 We are about to finish the last long line that we will cover. We are then going down the shorter lines to be back toward Nantucket Island to enter the sound sometime Friday or Saturday.
It is afternoon and still so foggy you can barely see in front of the ship. The foghorn is blowing and it is a lonely sound. The discussion now is how rough the seas will be and, for those of us who have never experienced this before, what to do to "batten-down-the-hatches."
We are slowing making our way through the fog. It has not let up. As the sun sets, we continue to process data from the gun and sensors.