Journals 2005/2006
Debra Slade-Redden
New Caney High School, New Caney, Texas
"Platts Bank Survey"
R/V Galatea
July 10-24, 2005
Journal Index:
July 10 - 11 - 12 - 13 - 14 - 15 - 16 - 17
18 - 19 - 20 - 21 - 22 - 23 - 24
July 23, 2005
Last day in Portland
Heather and I started our day with coffee and a walk to the Eastern Promenade. After a few hours I headed to buy souvenirs for my family and friends. In the afternoon, we took a tour of the Shipyard Brewing Company, a microbrewery.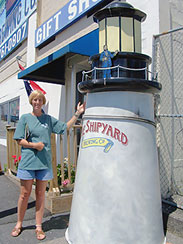 Fun at the microbrewery.
I had one last evening on the town with Heather and Beth. After a filling supper we headed to a sports bar to watch the Red Sox. Afterwards, it was time to stop by the Cold Stone Creamery for a much needed ice cream before retiring for the evening.