Journals 2007/2008
Mark Harris
Layton High School, Layton, UT
May 10, 2007
Gearing Up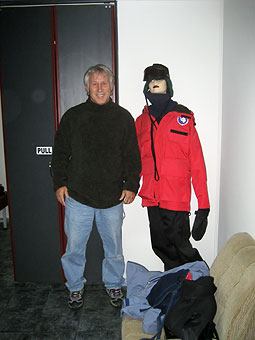 Checking out Antarctica gear
Today I spent the morning at the USAP (United States Antarctic Program) office checking out the cold weather gear needed for the trip. The program furnishes you with underwear, jackets, pants, socks, boots, goggles, gloves, and sun glasses. It is on a loan only basis, it would be nice if you could keep the gear. When I was finished I had another 30 pound bag to bring aboard the ship.
The weather in Punta Arenas, Chile is almost pre winter, it is strange to see the leaves turning color and falling. Leaving Layton all the leaves were new and bright green, how different it is down here.
I spent a few hours with the seal team that is just now leaving. Dan Costa, the Principal Investigator for the seal project shared and instructed the incoming seal team on his successes and problems that were encountered while tagging the seals. I was able to see first hand the data he has collected over the last 7 trips he has made to Antarctica. Crabeater Seals, Elephant Seals, Weddell Seals, Fur Seals, and Leopard Seals have been the animals most closely watched. I have noticed each scientist seems to have a favorite seal and that seems to be their area of expertise.
I have met the new seal team and am excited to be a part of their group. Checking onto the ship tomorrow and sailing Saturday - I am ready.