Journals 2007/2008
Mark Harris
Layton High School, Layton, UT
May 27, 2007
Vernadsky Research Station Visit
Today we loaded fresh food onto the small zodiacs and forged our way through the ice to deliver fresh food to the Ukrainian Antarctic Research station called Vernadsky. This was a National Science Foundation approved good will mission from our United States Palmer Station. The Ukrainians were happy to see us as we brought fresh vegetables, eggs, and milk. A formal greeting ceremony was held, exchanges were made, and off we went back to the ship.
As we traveled back through the Lamaire Channel, the beauty of Antarctica is somewhat indescribable. Sheer cliffs, frozen in time with no life anywhere on them, and then the water teaming with life, what a contrast. Leopard seals, crabeater seals, fur seals, gentoo penguins, adelie penguins, and snow petrels are extremely abundant through the channel. At one point, one scientist estimated a penguin colony at 10,000 birds. The penguins were everywhere. I really enjoyed watching them swim next to the boat. They porpoise in and out of the water very gracefully. Of course, I tried to get some pictures and of course, all I got were pictures of water. I am getting good at missing wildlife. I now do have a deeper appreciation of any wildlife photographer. Getting the shot is not all that easy.
Tomorrow we will be packing up. The scientists are wrapping their labs up and getting ready to head back to the United States. I will be available to help if they need. So I will be sailing on.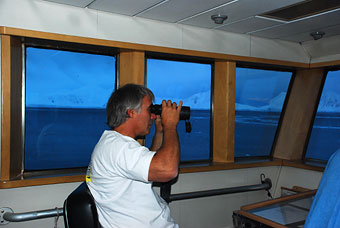 On the bridge watching wildlife