Journals 2007/2008
Mark Harris
Layton High School, Layton, UT
May 22, 2007
Tagging Our First Seal
We actually tagged our first seal today! We spotted a Weddell seal around 9:00 am this morning and the decision was made to go after him. For safety reasons, the ice flow was small (the size a 1/2 volleyball court) so it was determined it would be best for me to observe the tagging before getting on the ice and participating. I rode in the support boat in case the ice flow turned over while the scientists were on it. My job was to observe and film the procedure. I am in the right hand corner of the picture doing my job as the photographer. You can see how small the mini iceberg is.
The boats were lowered over the side into a huge ice field. It was incredible taking a zodiac boat with a 60 hp outboard engine into sea ice. I would estimate it took close to an hour to go 200 yards. We crept up to the Weddell seal and darted him with a tranquilizer, the scientists then went to work gathering their data on this seal and then finally gluing a transmitter on his head. Weddell seals are larger than crabeater seals but they don't fight and struggle as much as Crabeater Seals. The seal team worked well together, they have worked on the large elephant seals of northern California but working on a floating piece of ice was a first time experience for them but it looked from my perspective they were a well oiled team.
Dan Crocker, the chief scientist, came to me after the tagging and said, "you are up next, the crabeater seals struggle more and we need your weight to subdue the animal". I love to be involved first hand. Around 2 pm we spotted a crabeater seal, loaded into the boats and as we crept up onto the seal, Dan noticed a large wound in the side of the seal. He called off the operation in consideration of the seal's safety and health. Using anesthesia on an already compromised animal would not be something they were willing to do, especially when we have 3 more days of hunting. My heart was pumping, I definitely know that I am alive. Living large in Antarctica, this is an adrenaline rush in this wild and untamed land.
Seals tomorrow, movie tonight, and sleeping to a gently rocking boat always avoiding icebergs, that is life here in Antarctica.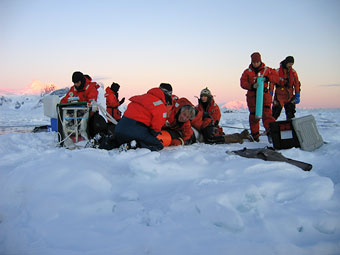 Tagging our first seal